Acknowledgements to Key People
Acknowledgements to Key People
Megan's Orchestra wouldn't have been possible without the help of some incredible people:
Louise Chappell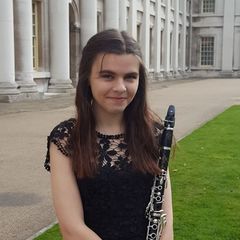 Louise Chappell is a multi-talented musician based in London and East Anglia, specialising in clarinet, saxophone, flute and piano. She is a well established woodwind doubler, making a name for herself in both the classical and musical theatre worlds.
In the 2017-18 season, Louise has performed with many London based orchestras in some wonderful venue; the Royal Festival Hall, Queen Festival Hall and Cadogan Hall to name a few. These orchestras include the Women of the World Orchestra, London City Philharmonic, London Beethoven Orchestra, the Goodensemble, and the London Iuvenic Orchestra. As well as orchestral playing, Louise has a busy portfolio career performing and teaching in London and East Anglia.
Louise is currently in hr final year of undergraduate study at Trinity Laban Conservatoire of Music and Dance and is generously supported by the Rob George Foundation, The Annabel and Gerald Malton Charitable Trust, and The William Barry Charitable Trust.
To find out more about Louise, please visit: https://www.louisechappell.com
Liliana Luongo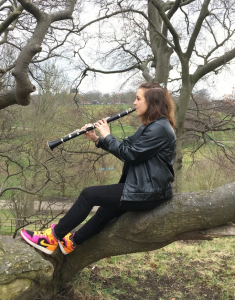 Liliana Luongo currently studies clarinet with Michael Whight (RPO) at Trinity Laban Conservatoire of Music in London. She previously studied with Joy Farrall (Britten Sinfonia). She has played principal clarinet in many orchestras and wind ensembles within Trinity Laban, playing in venues such as Blackheath Halls London and the Chelmsford festival.
With Trinity Wind Orchestra she had the wonderful opportunity to work with Keith Brion, foremost expert on John Phillip Sousa, recording a collection of Sousa's works for NAXOS.
In the last year she won the Wilfred Hambleton clarinet competition and was a finalist in the Harolde Clarke woodwind competition.
Outside of conservatoire, Liliana has played with the New Sussex Opera, London City Philharmonic Orchestra and the Goodenough College Orchestra and played Weber's 2nd Clarinet concerto with the Bury Friendly Orchestra. Whilst at County Upper School in Bury St. Edmunds she won West Suffolk Young Musician of the Year 2015 and was a member of Aldeburgh Young Musicians, Suffolk Youth Orchestra. She currently teaches clarinet and saxophone with the Camden Music service and tutors their junior orchestra. She has tutored with the Animate Orchestra Schools and Community programme, London. She also studies Eb and Bass clarinet with Hale Hambleton (ENO, LSO).
To find out more about Lili, please visit: https://lilianaluongo.wixsite.com/clarinet
Andrew Morley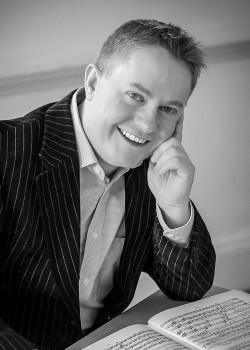 Andrew Morley studied conducting and orchestration with Denis McCaldin at Lancaster University and later gained a scholarship to study with Peter Stark at Trinity College of Music where he graduated with distinction and won the Ricordi Conducting Prize. He started his career with many ensembles in Lancaster, including symphony and chamber orchestras, choirs, choral groups and wind ensembles.
Andrew has worked with soloists Wissam Boustany, David Owen Norris, Tim Jackson, Simon Blendis, and Stephen Hough and has given the première of a new work for 'DJ' and ensemble by Gabriel Prokofiev. He has prepared music for renowned film composer Debbie Wiseman and conductor Barry Wordsworth, as part of Junior Trinity's centenary celebrations, and has conducted rehearsals with the Barbican Young Orchestra for performances at the Barbican Hall under Ed Gardner.
Andrew is the conductor of Norfolk County Youth Orchestra, the orchestra Megan partook in before starting her studies at Trinity Laban. It was there that Megan fully fell in love with classical music, and where she first started taking an interest in conducting. Megan now takes part in Triorca, an orchestra which Andrew is the assistant conductor.
To find our more about Norfolk County Youth Orchestra and Triorca, please click here.